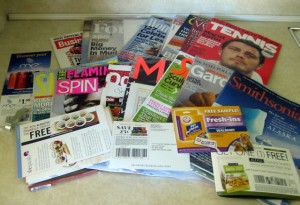 This was a pretty light week for free samples in the mail, but I think I got enough magazines to make up for it.
Alloutte Cheese Coupons from She Speaks
Alexia Snacks Free Coupon
Rimmel Lipliner from Allure giveaway
Arm & Hammer Freshins Free Sample
An enormous stack of Magazines which I need to go through and look for coupons in them. You know, before I got into coupons, I didn't even realize how many coupons are in magazines! My favorite magazine this week was a toss-up between Tennis & Smithsonian, both of which I read cover to cover every month.