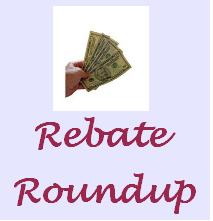 Another great way to save money is utilizing rebates. Here's a roundup of Mail-in Rebates that are currently available to print. And when you're out shopping, it's always a good idea to keep an eye out for "Try Me Free" peelies that can be found on various products. Happy Saving!
Bissell Offers – Offers Expire 10/14 & 10/15/12
Lift-Off® Deep Cleaning System – Save $20!
SpotBot Pet® – Save $20!
Steam&Sweep™ – Save $20!
$5.00 Crock Pot Rebate on Amazon – Get $5 back on Crock-Pots $24.50 or more through 11/30/12.
Free bag of World's Best Cat Litter – Offer expires 12/31/12
Requires form, UPC and receipt, 7-8#, up to $12.99
Touch of Gray Try Me Free – Offer expires 12/31/12
Up to $9.50 in value
Armor All Extreme Shield Wax Rebate – Offer expires 12/31/12
Purchase ONE Armor All® Extreme Shield Wax product on or before 12/31/12 & save $10.
Glade Expressions Mist Try Me Free up to $4.99 – Offer expires 12/31/12
Note: You must also have the original rebate hangtag to qualify for this rebate.
Dr. Scholl's Custom Fit Orthodics $10.00 Rebate – Offer expires 1/15/13
$5.00 Joint Juice Rebate – Offer expires 1/31/13
Get $5 back on one 30-pack of Joint Juice® supplement or $1.50 back on Joint Juice® supplement 6-packs, Joint Juice® drink mix 30-packs and new Joint Juice® Easy Shot™ supplement. Valid for the following Club stores only BJ's, Costco and Sam's.
Free Grapefruit Knife – No expriation noted
Buy one 3 pound bag of Florida Grapefruit OR one 100% Florida Grapefruit Juice 56 oz. or larger.
Moisture Enhancing Foot Care Sock Rebate – No expiration noted
To receive your free pair of moisture-enhancing socks:
Purchase any one (1) Kerasal Foot Care Product
Proofs of Purchase – Mail in BOTH the original receipt and the UPC from the carton
$1.00/1 Kerasal printable 
Current Ace Hardware Rebates – New offers available monthly.
Thanks Sarah's Deals!