Wow, Kohl's has got two great coupon codes you can use online right now: FREE2SHIP for Free Shipping on ANY size order. Plus, use SEPTFRIENDS or FFSEPT20 for an additional 20% off your order (even good on clearance items!). Both codes are valid through 9/23/12. Right now, Kohl's has got a ton of great Clearance Deals so be sure and head on over to check them out. Here's just a few deals I spotted (all can be found quickly by "Search"):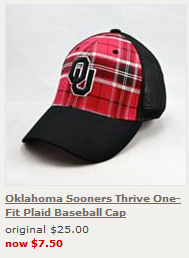 Oklahoma Sooners Thrive One-Fit Plaid Baseball Cap – $7.50 (was $25.00), $6.00 Shipped after Coupon Codes (Tons of other Sports gear on clearance in the "Sports Fan Shop" in Kohls' clearance section)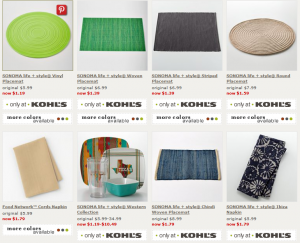 Lots Home Clearance, items as low as $0.95 Shipped after coupon codes!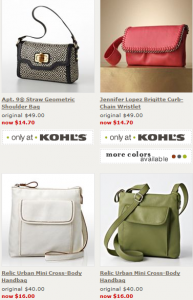 Lots of Purses, Bags on Clearance (under Women section in Clearance), prices as low as $8.64 Shipped after coupon codes
Also, lots of Clothing Clearance for Women Kids & Men, too many to mention!