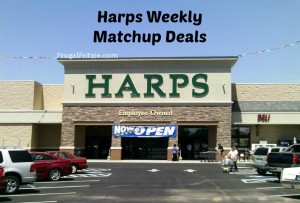 Harps Deals
Here are Harps deals with coupon matchups for the week of November 1st through November 14th, 2017. The best deals of the week have a star next to them. You can check out Harps' Coupon Policy here.
The Harps Joplin store doubles coupons up to and including $0.50, so I will be including doubling scenarios in my weekly Harps grocery posts. Just keep in mind their policy states a limiting of doubling 2 "like" coupons and a limit of doubling 20 coupons total.
↓↓↓ (Click on " Read more…" below to view the Harps deals for this week) ↓↓↓
Keep in mind prices and selection may vary by store, so check your local Harps ad for details.
Notes: You can select the deals you like and create a shopping list which you can then print, email to yourself or sync with the Favado smartphone grocery app. Pricing and selection will vary by region.
See the complete list of the week's Harps ad deals below (NW Arkansas & Oklahoma region):