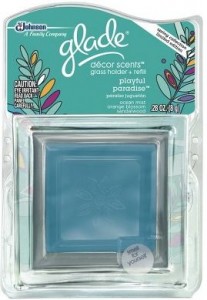 Great news! It looks like the high value coupon for $2.00 off one Glade Decor Scents Holder has reset, so you should be able to print 2 more! And here's two great deals you can use this coupon with right now:
At Target
Glade Decor Scents Holder – $2.99
Use $0.50/1 Glade $2.00/1 coupon
And Use $0.50/1 Target store coupon
Final Cost $0.49
Also, Dollar General recently had the Glade Decor Scents on sale for $2.50 & their sales seem to repeat fairly regularly, so snag it for $0.50 after the coupon when the sale rolls around again!