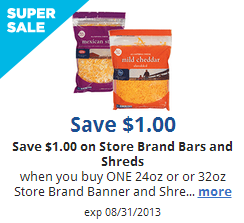 Head's up! There are lots of new Dillons digital coupons today. These new manufacturer's digital coupons (also known as ecoupons) are some rare ones I haven't seen in awhile, nice! In addition, you will see some of these coupons labeled "Super Sale".
↓↓↓ (Click on "more…" below to view to continue reading) ↓↓↓
These special digital coupons may be used up to 5 times in a single transaction (unlike the regular digital coupons which can be used one time only). Details: You can use these coupons up to 5 times in a single transaction. You cannot use these coupons in more than one transaction or in different transactions on different days. Head on over here to check out the entire selection (sign in with your shopper's card and select the coupons you'd like to load onto your card. Here are just a few:
Save $3.00 on one Tide 100 oz Liquid (excludes PODS & powder) Limit 1 download/1 use.
Save $1.00 on one CAPRI SUN Juice Drink (10 pack). Limit 1 download/1 use.
Super Sale Diillons Digital Coupons (up to 5 times)
Save $1.00 on Store Brand Cheese Bars and Shreds 24 oz or 32 oz
Save $0.55 on one Sara Lee Soft & Smooth White Bread Made with Whole Grain or Honey Wheat Bread
Save $6.00 when you buy 4 participating Big G cereals (Cheerios, Lucky Charms XL size, Resses Peanut Butter Puffs, MultiGrain Cheerios, Kix, Honey Nut Cheerios XL Size, Cinnamon Toast Crunch)
Save $2.00 HOT POCKETS® or LEAN POCKETS®
Save $1.25 on Dentastix 18, 25 or 58 count
Save $1.00 on Pepperidge Farm® 6.6 oz Goldfish® Snack Cracker bags
Save $1.00 on 3 Tony's Multi-Serve Pizzas (12 oz or larger)
Save $0.75 on one box of Mom's Best Cereals
Save $.70 on OSCAR MAYER Beef Bologna or Cotto Salami, 16 oz only OR ONE(1) OSCAR MAYER Shaved Cold Cuts, 16 oz. only OR ONE(1) OSCAR MAYER Lunchmeat, 16 oz only
and more!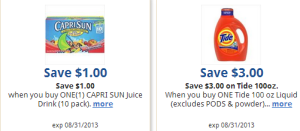 Thanks Theresa!