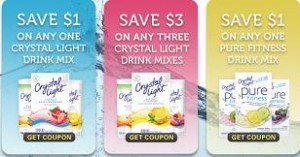 Go to Crystal Light's Facebook page HERE, click on the "Like" button & you'll be able to print 3 different Crystal Light coupons:
$1.00 off any 1 Crystal Light product
$3.00 off any 3 Crystal Light products
$1.00 off any 1 Crystal Light Pure Fitness product
You should be able to print each one twice and these are while supplies last, so print these right away! And don't forget, Target has $1.00 off 3 Store coupon HERE (print it now before it's pulled off Target's site) you can stack with these coupons for even more savings!
Thanks Common Sense with Money!