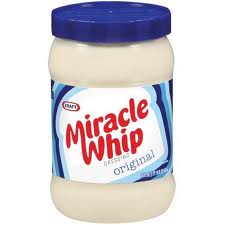 Here's a HOT Kraft Miracle Whip Coupon & another HOT Walgreens scenario:
At Walgreens starting 8/26:
Kraft Miracle Whip or Mayo (30 oz.) – 2/$6.00
Use 2 $1.00/1 Kraft Miracle Whip or Mayo Printable coupon
AND Use $1/2 Kraft Miracle Whip or Mayo Walgreens Store coupon
Final Cost $1.50 ea., Combine it with the Catalina below to snag this deal even cheaper!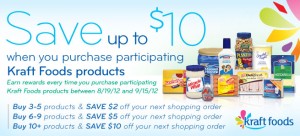 Kraft Catalina: Buy participating Kraft items from 8/19-9/15/12 and get a Catalina good off your next purchase (input your zipcode to see if any of your area stores are participating):
Buy 3-5 products=$2.00 oyno
Buy 6-9=$5.00 oyno
Buy 10 or more=$10.00 oyno
Note: It looks like there are several items on sale at Walgreens that go along with this Catalina as well as NEW coupons to go along with them, so I'm typing up a scenario today of everything that is included.